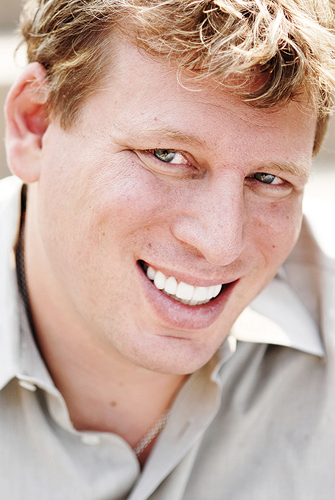 Ari is graduating tomorrow from his pediatric residency. Very. Busy. Guy.
He was looking up at me from the cement steps he was sitting on, late-morning sun at his back. I was using my 105mm macro lens because it's much less intimidating than my 70-200 for subjects who only have a few minutes to spare for me to get the shot. My son was holding a reflector to camera left (this costs me a bag of Sour Skittles.) Ari's eyes are so light and crystal-clear blue, you can make out the whole scene in their reflection, including my daughter dancing around a group of ants behind me (well, you can in the high-res file, anyway.)
I wasn't altogether satisfied with what I was seeing, so we moved into a green shaded area and I wrapped up the portrait shoot with what I expected to be my favorites. But before I dumped these into my digital trash, I ran one of Michelle Black's actions and was totally surprised by the result. I didn't expect it to flatter a blue-eyed blond male in full sunlight. It did! And as it turns out, it made this image my shot of the day. Thank you, Michelle!
Very. Fun. Work.