It started as a living nightmare: the best I can describe it is a long, disturbing, throbbing SCREECH, such as the sound a rodent might make. A rodent trapped under a PowerBook keyboard, for example. The kind of screech that quickly conjures up the shocking, flash-before-your-eyes realization of all that might be lost in a hard drive failure. Starting to feel my pain?
Fom my husband's Windows-based machine (which evokes the same shocking fear in me; I digress) I advance-search-googled "Macintosh service repair Springfield Virginia" and the first link to come up was Mid Atlantic Consulting, Inc. I called during wee-hours and told their voicemail that I was living the nightmare and to PUHLEEEEZE call me, there's a rodent in my machine and I can still brush my teeth, but that's about ALL I know how to do without my computer up and running.
I called again at 8 a.m., got a different menu (which encouraged me to believe that they'd all arrived to work for the day,) pressed 3 for a Macintosh technician and Bill Harlow answered. I am not making this up. He calmly talked with me about the problem, told me exactly what kind of hard drive to buy for my machine (I could always return it if we didn't need it), and said he'd meet me at my house in an hour. Sound too good to be true?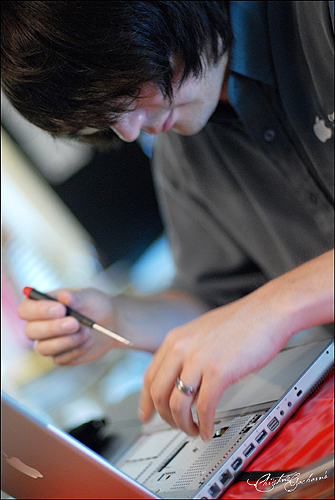 It gets even better. A couple of weeks ago (shortly after I wrote the print that never was), I got serious about something on my list of things to do. You know the list: sandwiched between "organize guest room closet" and "put photos into albums" is "backup hard drive." I spent $28 on Shirt Pocket's SuperDuper, partitioned my firewire drive, and created a bootable backup.
So after Bill was finished installing and initializing my new drive, all we had to do was copy my bootable backup to my shiny new hard drive.  Gone are the days when programs need to be reinstalled, photos copied, music found…SuperDuper! did all that for me.  My PowerBook powered up exactly as it did before the squealing rodent — only with twice the hard drive space!
I lost some emails and spent an unbudgeted $300, but I gained 80GB of hard drive storage and won't have to spend the next two weeks trying to rebuild, or a lifetime mourning. I didn't lose one photo, and my iPod playlists are intact.
The folks at ShirtPocket recommended iDefrag — I took it as gospel and picked it up.
Tonight, I'll waver momentarily on that dreamy edge of running through my head of what I need to complete tomorrow and sleep, and "back up hard drive" won't even occur to me. Even if I did forget to back it up, no matter; it is now scheduled to do it automatically at 2 a.m.
Mac Users, does it get any better than that?  (28 bucks, for crying out loud!)
P.S. Yes, I did ask: Bill uses SuperDuper to back up his own PowerBook.
P.S.S.  If you're not already on Shirt Pocket's website, you should be — before a rodent screetches under a keyboard near you.